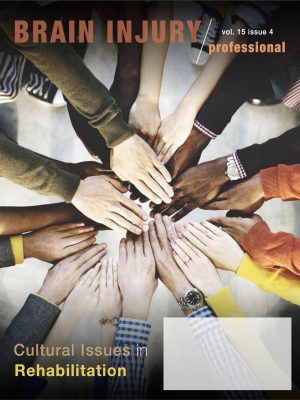 About the Publication

Publisher: Chas Haynes, JD
Editor-in-Chief: Nathan Zasler, MD and Beth Slomine, PhD
Editor Emmertitus: Debra McMorrow, PhD and Ronald Savage, EdD
Brain Injury Professional is the largest professional circulation publication on the subject of brain injury and is the official publication of the North American Brain Injury Society and International Brain Injury Association. Brain Injury Professional is published by HDI Publishers of Houston, Texas.
To go to the main Brain Injury Professional website, click here.
To view most recent copy of Brain Injury Professional, click here.

Back issues of BIP are available electronically to all members of NABIS and IBIA as a benefit of membership. If you are a member, please click here to go to the members only area and view archived copies of BIP. (Members only area is under the "Membership" tab)
Click here to become a member today!


Advertising
There is no better way to advertise your brain injury service or product than though Brain Injury Professional. For rates and information, please contact Megan Bell Johnston at (713) 526-6900, or by email: mbell@internationalbrain.org