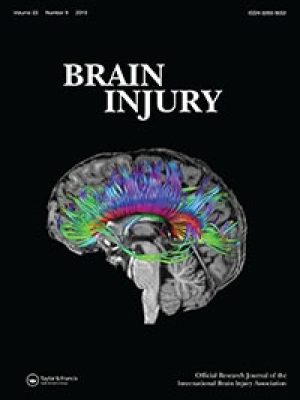 About the Journal

Brain Injury is the official journal of the International Brain Injury Association and is published by Informa Healthcare. Brain Injury is a truly multidisciplinary journal, featuring new, empirical studies, systematic reviews, and in-depth case studies. It's intended interdisciplinary audience includes physicians, psychologists and neuropsychologists, allied health professionals, nurses, and basic scientists.
Manuscripts cover a full range of highly relevant topics ranging from basic science, to medical care and rehabilitation, and long-term outcome. Uniquely, manuscripts address medical, rehabilitative, pharmacological, and psychosocial aspects of injury including family impact, return to work, and academic functioning.

Emphasizing knowledge translation and evidence-based practice, Brain Injury is relevant to clinical research specialists, practitioners, and basic scientists.

To join IBIA and start receiving Brain Injury at a discounted rate, click here. 14 issues per year Print ISSN: 0269-9052 Online ISSN: 1362-301X

Once you have paid for your membership, you can expect an email from our publisher, Taylor and Francis, with access instructions and a link to the journal. This process takes a few days. Please check your spam folder if you don't see it.

Editorial Board
Editors in Chief
Jeffrey S. Kreutzer, PhD, ABPP, FACRM
Department of Physical Medicine & Rehabilitation
Virginia Commonwealth University, Medical College of Virginia Campus
Richmond, VA USA
Nathan D. Zasler, MD, DABPM&R, FACRM, BIM-C, CBIST
CEO & Medical Director, Concussion Care Center of Virginia, Ltd.
Founder, CEO & CMO, Concussion Care Centre of Virginia, Ltd.
Medical Director, Tree of Life
Professor, Affiliate, Department of Physical Medicine and Rehabilitation, Virginia Commonwealth University, Richmond, Virginia
Professor, Visiting, Department of Physical Medicine and Rehabilitation, University of Virginia, Charlottesville, Virginia
Chairperson, Emeritus, IBIA
Vice-Chairperson, IBIA

Associate Editors
Olli Tenovuo, MD, PhD
Turku University Hospital, Division of Clinical Neurosciences, Department of Rehabilitation and Brain Trauma
Turku, Finland
Manish Bhomia
Uniformed Services, University of the Health Sciences,
Bethesda, Maryland, United States
Gavin Williams
Epworth Healthcare and The University of Melbourne
Richmond, Australia

Managing Editor:

Stephanie A. Kolakowsky-Hayner, PhD, CBIST, FACRM
Director of Research and Clinical Outcomes
Good Shepherd Rehabilitation Network
Allentown, PA, USA
Director, National Traumatic Brain Injury Registry Coalition
Washington, DC, USA
Questions
All inquiries regarding access to the journal should be directed to: onlineaccesshelp@taylorandfrancis.com.
Link to Brain Injury