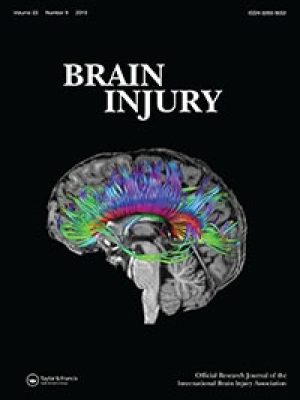 About the Journal

Brain Injury is the official journal of the International Brain Injury Association and is published by Informa Healthcare. Brain Injury is a truly multidisciplinary journal, featuring new, empirical studies, systematic reviews, and in-depth case studies. It's intended interdisciplinary audience includes physicians, psychologists and neuropsychologists, allied health professionals, nurses, and basic scientists.
Manuscripts cover a full range of highly relevant topics ranging from basic science, to medical care and rehabilitation, and long-term outcome. Uniquely, manuscripts address medical, rehabilitative, pharmacological, and psychosocial aspects of injury including family impact, return to work, and academic functioning.

Emphasizing knowledge translation and evidence-based practice, Brain Injury is relevant to clinical research specialists, practitioners, and basic scientists.

To join IBIA and start receiving Brain Injury at a discounted rate, click here. 14 issues per year Print ISSN: 0269-9052 Online ISSN: 1362-301X

Once you have paid for your membership, you can expect an email from our publisher, Taylor and Francis, with access instructions and a link to the journal. This process takes a few days. Please check your spam folder if you don't see it.

Editors in Chief
Jeffrey S. Kreutzer – Virginia Commonwealth University Medical Center, Richmond, USA.
Nathan Zasler – Concussion Care Centre of Virginia and Tree of Life, Virginia Commonwealth University, USA. University of Virginia, Charlottesville, USA.
Associate Editors
Olli Tenovuo - Turku University Hospital, Turku, Finland
Benedict Albensi - University of Manitoba, Manitoba, Canada
Questions
All inquiries regarding access to the journal should be directed to: onlineaccesshelp@taylorandfrancis.com.