For the 2021 Virtual World Congress, we will have a new registration category, "International Outreach", as noted below. The rates for the 2021 Virtual World Congress on Brain Injury are: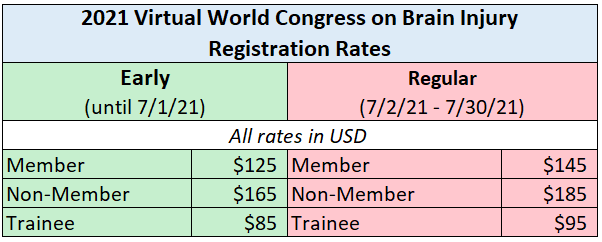 The Early Rate has been extended until July 1, 2021. To Register, click on the "Registration" button below.
Registration
International Outreach Registration
Brain injury professionals who live and work in developing regions of the world may register for the 2021 Virtual World Congress at a subsidized rate. Professionals located in countries classified as "Low income" or "Lower middle income" as determined by the World Bank Atlas may avail themselves of this special rate. To review the index of qualifying countries, click here.

For any problems with registration, email Colleen LoGrande at clogrande@internationalbrain.org.
Questions
For any questions about PINK X, please contact congress@internationalbrain.org.
PINK X - Home Page