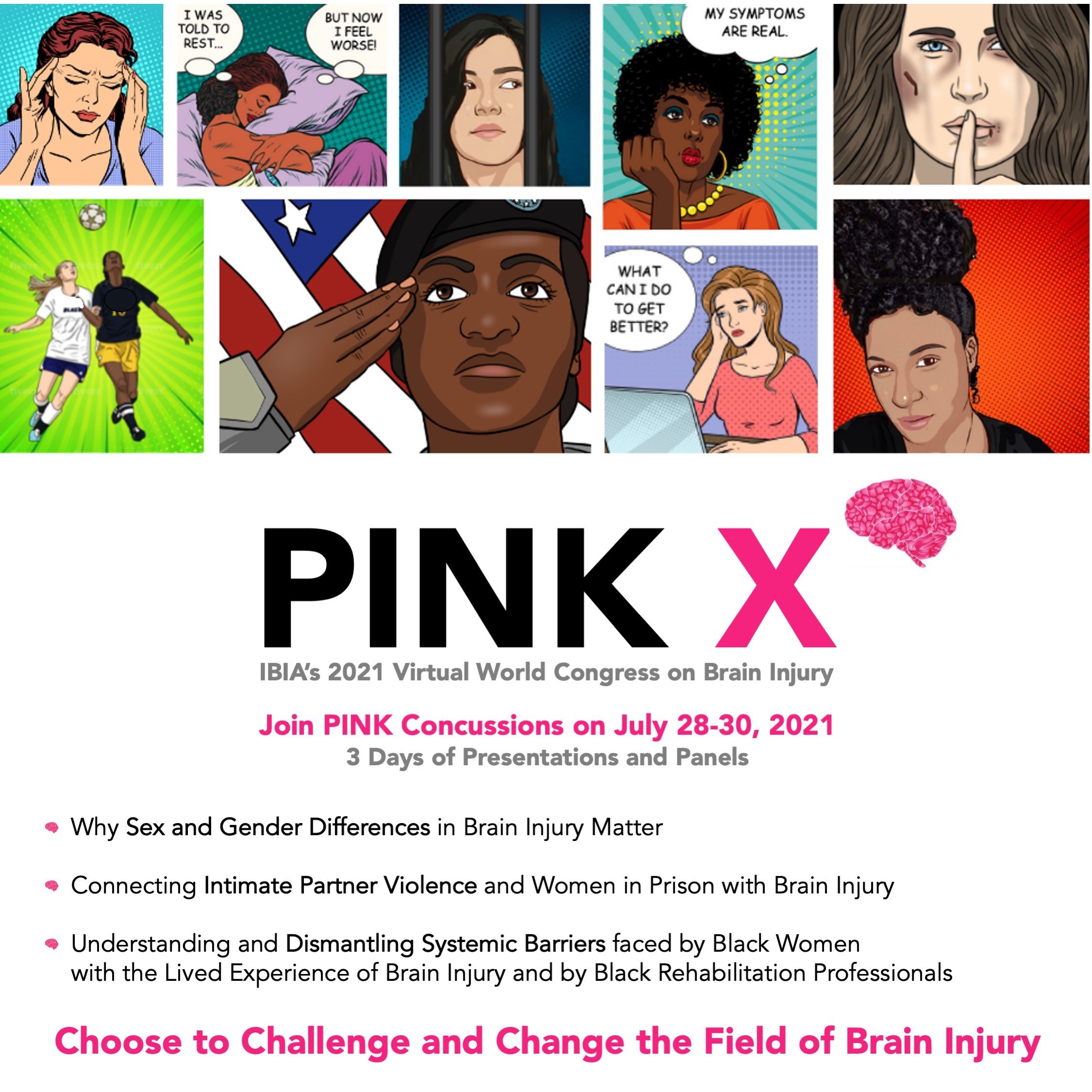 A Virtual Event on July 28-30, 2021

This event has passed.

Overview

PINK X will bring together twenty leading researchers to explore current sex and gender research in the field of brain injury as well as six women to share their lived experience of brain injury. Listening to the voices of women who have experienced brain injury is an essential step to help translate the data found in academic research papers into actionable change in clinical settings.
Over the three days of PINK X, we will invite questions and engagement from conference participants concerning all aspects of brain injury in women and will provide opportunity to join in our discussions and ask questions of our experts as well as our panels of women sharing their lived experiences of brain injury.

Wednesday – Behind Locked Doors: IPV-related Brain Injury and TBI in Women in Prison
Our pre-conference day will examine the research on TBI in women who have experienced intimate partner violence and women who have faced incarceration. Leading experts will present research and share ideas about how violence changes the dynamics of brain injuries for the patient, doctor, and family.

Thursday - Sex and Gender Differences in Brain Injury
On the first day of the IBIA congress, PINK X sessions will focus on current research from leading experts on how sex and gender differences are related to various mechanisms of injury, help-seeking behaviors by patients, screening, diagnosis, treatment, support, and ultimately, long-term outcomes. The day will end with a panel of women sharing their lived experience of brain injury with the goal of blending scientific findings with the patient perspective to improve research, policy, and practice overall.

Friday – Understanding and Dismantling Systemic Barriers faced by Black Women with the Lived Experience of Brain Injury and by Black Rehabilitation Professionals

On the second day of the IBIA Congress, PINK X sessions will present research on the systemic barriers to opportunities that exist for Black professionals working on brain injury and Black women with the lived experience of brain injury. Through research presentations and two panels, we will explore the need for more diversity, equality and inclusion related to race and gender within the field of brain Injury.
Education Credits
The continuing education activity will be provided through collaboration between International Brain Injury Association (IBIA) and AffinityCE. Currently, we are applying for continuing education credit for physicians, nurses, psychologists, social workers, occupational therapists, physical therapists, rehabilitation counselors, case managers, and speech-language professionals. We expect to have the following types of credits for congress attendees:
Physicians: Accreditation Council for Continuing Medical Education (ACCME) AMA PRA Category 1 Credit
Nurses: American Nurses Credentialing Center (ANCC)

Case Managers: Commission for Case Manager Certification (CCMC)
Rehabilitation Counselors: Commission on Rehabilitation Counselor Certification (CRCC)
Speech Language Professionals: American Speech-Language Hearing Association (ASHA)
Psychologists: American Psychological Association (APA)
Occupational Therapists: ACCME Non-Physician CME Credit, Texas PT Association
Physical Therapists: ACCME Non-Physician CME Credit
Social Workers: National Association of Social Workers (NASW)
General Participation Certificate: Provided to other attendees not included above.
For Continuing Education Information and Speaker Disclosures, please refer to the 2021 Virtual World Congress on Brain Injury by clicking here.
Who Should Attend
Delegates are comprised of rehabilitation physicians, psychiatrists, psychologists, neurosurgeons, speech pathologists, occupational therapists, physical therapists, social workers, educators, nurses, case managers, advocates, legal professionals and all others committed to improving the outcome of adults and children with traumatic and non-traumatic brain injury.
Registration
Registration is closed.
Faculty

There is an amazing group of speakers and panelists who will participate in this unique educational event. Click on the link below for details. Additional speakers will be added as they are confirmed, so check back often!
For the list of faculty, click here.

Program
To view the current program, click here.
Exhibit and Support Opportunities
To view the exhibits and support opportunities, click here.
Questions
For any questions related to this meeting, please contact congress@internationalbrain.org.