Registration Rates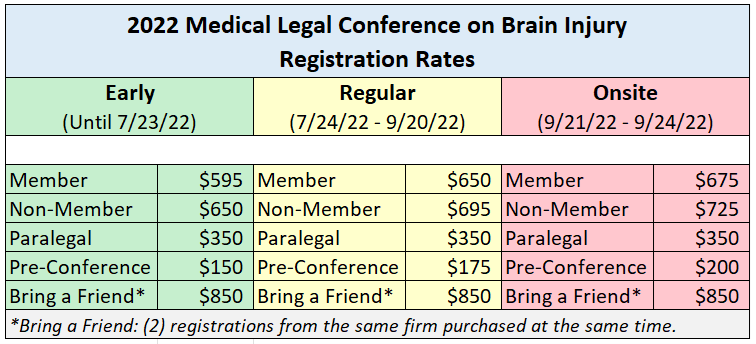 Main Registration: https://ibia.eventsair.com/2022-medical-legal-conference-on-brain-injury/reg
Bring a Friend Registration: https://ibia.eventsair.com/2022-medical-legal-conference-on-brain-injury/baf-registration
Blurb for the website (Megan):
This year, the leadership of the 34th Annual Conference on Medical and Legal Issues in Brain Injury are again providing a "bring a friend" rate of $850 USD. Two people can register for the price of one! Both registrants must be from the same firm and must register at the same time. Please note that proof of COVID-19 vaccination will be required during the registration process.

The Bring a Friend rate does not apply to the pre-conference or paralegal rates. You will have an opportunity to add the optional pre-conference when registering.
All registration questions and concerns should be directed to Colleen LoGrande at clogrande@internationalbrain.org.