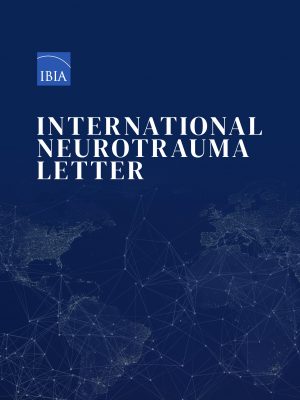 About the Publication
The International NeuroTrauma Letter (INTL) is intended to serve as an international communication tool for physicians, clinicians, researchers, policy makers, advocacy organizations, and consumers interested in neurotrauma. The intention of the International NeuroTrauma Letter is to bring together diverse groups involved with neurotrauma issues to share knowledge, challenge current ideas, encourage research, and spawn legislative innovation.
The International NeuroTrauma Letter (INTL) is published quarterly by HDI Publishers in Houston, Texas. HDI has a long history of producing quality scientific publications.

Authors interested in submitting original research to NTL should review the submission guidelines by clicking here.
2014-2016 INTL Editorial Board
Editor in Chief: Peter D. Patrick, PhD
Associate Editor: Nathan D. Zasler, MD

Juan Carlos Arango-Lasprilla, PhD - Spain
Dr. Arango-Lasprilla is currently a Research Professor at BioCruces Health Research Institute. Cruces University Hospital at Bilbao Spain. A neuropsychologist by training, Dr. Arango's areas of expertise are neuropsychology, traumatic brain injury and rehabilitation. He has been instrumental in securing over $5 million dollars in grant funds as PI and co-PI, primarily focusing on research cross cultural neuropsychology and traumatic Brain Injury. He has received national recognition for his work in the area of brain injury and rehabilitation, including early career/emerging professional awards from the American Psychological Association's Division 22 Rehabilitation Psychology and Division 45 (Society for the Psychological Study of Ethnic Minority Issues) and The International Brain Injury Association Young Investigator Award. Dr. Arango has published more than 220 articles and book chapters. He is well-known both in the US and abroad in his areas of expertise, and has been a guest editor of seven special issues in prominent rehabilitation journals. He currently serves on the editorial boards of 25 publications and is a reviewer for an additional 40 journals around the world.

Dr. Arango has conducted numerous research studies in Europe, Central America, South America and the United States focused on understanding and addressing the cognitive, psychological and emotional needs of individuals with brain injury and their families. As a renowned expert in his field, he is often invited to national and international conferences to speak on brain injury, neuropsychology, and rehabilitation. Dr. Arango enjoys teaching and has lectured at Grand Rounds and at more than 60 different universities across the globe.
David B. Arciniegas, MD, FANPA, FAPM, CBIST - USA
Dr. Arciniegas is Director of Education for the Marcus Institute for Brain Health and Clinical Professor of Neurology and Psychiatry at the University of Colorado School of Medicine in Aurora, Colorado and Physician Research Scientist at Craig Hospital in Englewood, Colorado. His clinical work and patient-oriented research focus on the cognitive and non-cognitive neuropsychiatric sequelae of traumatic brain injury (TBI) and other neurological disorders. He has authored 125 articles in peer-reviewed scientific journals, contributed more than 40 book chapters to medical neuroscience and neurorehabilitation textbooks, and has served as an editor on seven medical textbooks. He is Editor of the Journal of Neuropsychiatry and Clinical Neurosciences, Associate Editor of the Journal of Head Trauma Rehabilitation, and a member of multiple journal editorial boards, including Brain Injury. He has delivered more than 275 scientific lectures in the United States and abroad on a broad range of topics in neuropsychiatry and neurorehabilitation. In addition to multiple institutional awards for teaching and research excellence, he received the 2000 Young Investigator Award from the Brain Injury Association of America; the 2015 Mitch Rosenthal Award for Scientific and Clinical Achievement in Brain Injury Rehabilitation from Virginia Commonwealth University and Brain Injury Services, Inc; and the 2016 Innovative Clinical Treatment Award from the North American Brain Injury Society. Dr. Arciniegas serves as Chairman and CEO of the International Brain Injury Association and contributes his efforts to governmental and non-governmental organizations striving to improve the lives of persons and families affected by brain injuries.
Ian Baguley, MBBS, PhD - Australia
Prof. Baguley is a Rehabilitation Medicine Physician based in Sydney, Australia. He is a Senior Staff Specialist and the Research Team Leader of Westmead Hospital's Brain Injury Rehabilitation Service, and in 2000, he established the Spasticity Management Service of St Joseph's Hospital. He was a founding member of the Spasticity Clinic at Royal North Shore Hospital in 2007. Dr Baguley is a Clinical Senior Lecturer in the Department of Medicine at the University of Sydney and an Honorary Associate Professor in the Department of Psychology at Macquarie University. Dr Baguley was awarded a PhD in 2008 for his research into autonomic complications resulting from traumatic brain injury. He regularly reviews articles for a number of professional journals and research funding bodies. He has published more than 40 original articles in peer-reviewed journals and presented over 100 conference abstracts in various fields of Rehabilitation Medicine. His chief areas of research involve aspects of traumatic brain injury and spasticity rehabilitation.
Ross Bullock, MD, PhD - USA
Dr. Bullock is a Professor of Neurosurgery and Director of Clinical Neurotrauma at the University of Miami, and Jackson Hospital, Miami. He is the only physician to have served as both President of the US National Neurotrauma Society, and later as Chairman of the Trauma Section of the American Association of Neurological Surgeons. He has been PI of an NINDS program Project grant (Mitochondrial dysfunction in TBI) and has an RO1, on Endogenous Stem cell regeneration, in TBI. He has generated over $11M in research support for TBI. He obtained his medical training in Birmingham UK, and completed his residency training in Durban, South Africa, and Glasgow, Scotland. He was Deputy Editor of the Journal of Neurotrauma for 14 years, and is a reviewer for thirteen other journals. Research interests include pathomechanisms of TBI, neuroprotection trials, neuromonitoring, and the role of stem cells in regeneration and repair. He has co-authored four sets of management guidelines, four books, and over 250 papers.
Enrico Castelli, MD - Italy
Dr. Castelli is a pediatric neurologist who is Head of Pediatic Neurorehabilitation and Neuroscience at Childrens Hospital Bambino Gesu in Rome, Italy. Dr. Castelli's main field of interest is the multidisciplinary rehabilitative evaluation and treatment of children with acquired brain lesions, injuries and tumors. Dr. Castelli is member of the European Neurological Society, the European Brain Injury Society and the Italian Society of Physical Medicine and Rehabilitation. Dr. Castelli is the President elect of the European Academy of Childhood Disability Board. Dr. Castelli is a well known author and lecturer on the subject of severe brain injury and rehabilitation in children and adolescents.
Marilyn F. Kraus, MD - USA
Dr. Kraus is a neuropsychiatrist whose focus for over fifteen years has been in the area of traumatic brain injury. She graduated from Tulane School of Medicine, where she also did her residency training. In addition, she has completed fellowships at both Baylor School of Medicine and Johns Hopkins. She is boarded in psychiatry, as well as the subspecialties of neuropsychiatry and geriatric psychiatry. Dr. Kraus recently completed a five year NIH grant studying the neurobehavioral effects of TBI, utilizing diffusion tensor imaging (DTI), functional MRI, and oculomotor studies. She has numerous publications, and lectures frequently on TBI.
Lisa Cantore Letzkus, RN, MSN, CPNP-AC, CCRN - USA
Ms. Cantore Letzkus received her BSN in nursing from Shenandoah University in 2004. As a registered nurse, she worked at the University of Virginia in the Pediatric Emergency Department. She later relocated to Philadelphia and worked in the Cardiac Intensive Care Unit and Pediatric Emergency Department at Children's Hospital of Philadelphia (CHOP). While at CHOP, she received her critical care RN certification (CCRN). She received her MSN in nursing from the University of Pennsylvania in 2008 and is certified as an acute care pediatric nurse practitioner. She returned to Charlottesville, Virginia to accept an acute care pediatric nurse practitioner position at The University of Virginia Children's Hospital, Kluge Children' s Rehabilitation Center (KCRC) in 2008. Ms. Cantorre Letzkus is a member of the medical team interacting with colleagues to provide comprehensive and family-centered care to both acute and rehab pediatric patients at KCRC. She is an expert in pediatric brain injury and rehabilitation. She is currently presuming her PhD in nursing at the University of Virginia, with a focus on disorders of consciousness in pediatric brain injury.
Sheila MacDonald, MClSc, SLP(C) - Canada
Ms. MacDonald has over 25 years experience in assessing and treating individuals with ABI from acute care, through to community, and return to work and school. She is author of a standardized test of higher level cognitive-communication skills (the FAVRES), and has co-authored a treatment book, preferred practice guidelines, and other publications related to assessment, intervention, and evidence based practice. She is the instructor for a Cognitive-Communication Clinical Course for Speech-Language Pathologists (CCD Level 1 & 2) endorsed by the Ontario Association of Speech-Language Pathologists & University of Toronto Department of Speech-Language Pathology. She is an invited speaker, consultant, and educator on topics including: assessment & treatment methods, strategies for individuals, families, & professionals, and vocational and academic re-entry. She has participated in community agency boards, provincial associations and government initiatives and is currently a member of the TBI Evidence Based Practice Committee of the Academy of Neurological Communication Disorders. She has a private practice in Canada where she addresses issues of bedside, kitchen table, and community communications for those adjusting to life after brain injury.
Peter D. Patrick, PhD - USA
Dr. Patrick is a pediatric neuropsychologist with over 40 years experience in the evaluation and care of children and adults with severe brain injury. He is presently an Associate Professor of Pediatrics at the University of Virginia School of Medicine and he is director of Pediatric Psychology and Neuropsychology at University of Virginia Children's Hospital. Dr. Patrick's areas of research include the effects of psychotropic medications on neuropsychological recovery in children/adolescents and the neuropsychological recovery of children in vegetative and minimally conscious states. Dr. Patrick is also Adjunct Faculty in the Department of Psychology at James Madison University where he teaches Psychopharmacology and Pediatric Neuropsychology.
Donald G. Stein, PhD - USA
Dr. Stein, PhD, is Asa G. Candler Professor of Emergency Medicine and Neurology at the Emory University School of Medicine in Atlanta, Georgia. Before returning to full-time teaching and research, Dr. Stein served Emory for five years as Vice Provost for Graduate Studies, Dean of the Graduate School of Arts and Sciences and interim Vice President for Research. Dr. Stein was Vice Provost for Research and Dean of the Graduate School at Rutgers University, Newark from 1988-1995, and adjunct professor of Neurology at the University of Medicine and Dentistry of New Jersey, and before that was a member of the faculties at Clark University (Psychology) and the University of Massachusetts Medical Center (Neurology) in Worcester, Massachusetts (1966-88). He received the PhD. degree from the University of Oregon in 1965 and followed this with post-doctoral training at the Massachusetts Institute of Technology before moving to Worcester. Stein's research has long focused on the processes underlying recovery of function after traumatic injury to the brain. Stein's group was one of the first to demonstrate sex differences in the outcome of severe injuries to the frontal cortex. The recovery was related to the hormonal state of the females at the time of injury. Later investigations showed that progesterone played a key role in promoting functional recovery through its ability to eliminate cerebral edema. Injections of progesterone were also effective in reducing edema and promoting recovery in male laboratory animals.
Yaron Sacher, MD - Israel
Dr. Sacher is the Director of the Department of Traumatic Brain Injury Rehabilitation at Loewenstein Hospital in Ra'anna, Israel. The department is affiliated with the Sackler faculty of medicine at Tel-Aviv University. Dr. Sacher completed his PRM training at Loewenstein Hospital and worked in the Department of Non-Traumatic Brain Injury Rehabilitation before taking his current position. His main field of interest and research is cognitive neuroscience.
Nathan D. Zasler, MD, FAAPM&R, FACRM, FAADEP, DAAPM, CBIST - USA
Dr. Zasler is an internationally respected physician specialist in acquired brain injury(ABI) care and rehabilitation. He is CEO and Medical Director of the Concussion Care Centre of Virginia, an outpatient neurorehabilitation practice, as well as, Tree of Life, a living assistance and transitional neurorehabilitation program for persons with acquired brain injury in Richmond, Virginia. He is board certified in Physical Medicine and Rehabilitation and fellowship trained in brain injury. Dr. Zasler is an Adjunct Professor of PM&R at VCU in Richmond, Virginia, as well as, an Adjunct Associate Professor of PM&R at the University of Virginia, Charlottesville, Virginia. He is a fellow of the American Academy of Disability Evaluating Physicians, and a diplomate of the American Academy of Pain Management. Dr. Zasler has lectured and written extensively on neurorehabilitation issues in ABI. He is active in national and international organizations dealing with acquired brain injury and neurodisability, serving in numerous consultant and board member roles as including currently serving as Vice Chairperson of IBIA.

Past Editions
Please view the most recent versions of INTL below.
INTL 35